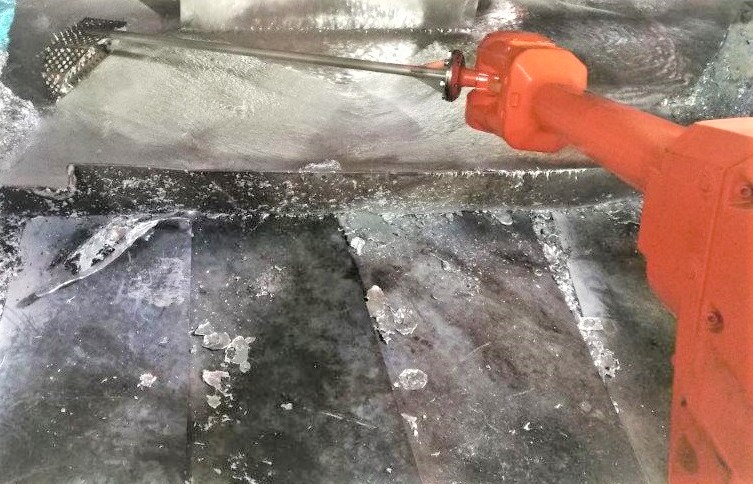 Automatic robotized slag skimmers for zinc pots
10 abril 2020
PRISMA Impianti has realized the detailed engineering for the installation of new robotized cells for the Hot Dip Galvanizing Line No 1 and 2 (CGL) from ARCELOR MITTAL Taranto.
The main components are robots ABB (type IRB 4600 and IRB 6640) to operate at the zinc pot, equipped with special customized slag skimmers engineered by us.
The scope of work includes the complete design of the electrical and automation system for installation, programming, interfacing and start-up of the robots.
Based on our risk analysis and application of the latest regulations we have evaluated all risks in the zinc pot area and designed the safety fencing by inserting and controlling safety interlocks and sensors in the working area.
Scope of Work:
No 3 robot ABB IRB 4600 for CGL No. 1 with their control panels (supplied by customer)
No 1 robot ABB IRB 4600 + No. 1 robot ABB IRB 6640 for CGL No. 2 with their control panels (supplied by customer)
Local control panels and push-button panels for safety doors
Power and automation boards
Power and control cables
Robot software programming (License: ABB Robot Studio Premiun Functionality)
Integration of hardware and software on PLC (existing PLC Rockwell for CGL No. 1 and PLC Siemens for CGL No. 2)
HMI integration (existing Rockwell RSView32)
CCTV system for robot cell consisting of 2 cameras and 2 monitors for each line
Automated safety fences on the zinc pot complete with motorized system for opening and closing
External safety fences for area delimitation with safety interlocks
Sensors
No 8 customized tools (slag skimmers)