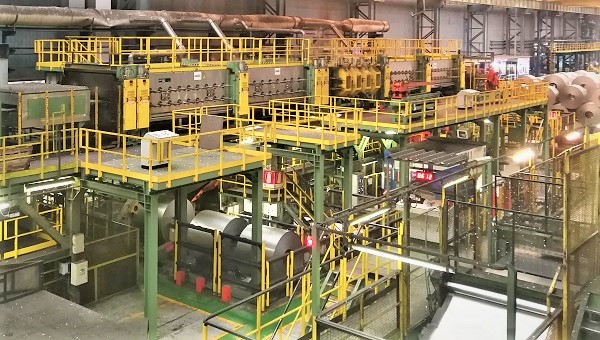 New cleaning section on galvanizing line No. 1 for Marcegaglia Ravenna
April 10, 2020
In order to improve the quality of the produced strip on the galvanizing line No. 1 of Marcegaglia Carbon Steel at Ravenna we have realized the engineering, supply, start-up and CE certification of a new entry cleaning section.

The mechanical team from PRISMA Impianti has designed the mechanical machineries for the complete cleaning system including process tunnels, recirculation tanks, chemical dosing and ventilation system.

Configuration of the new cleaning section as follows:
Centring roll (existing) with new motorized snubber roll
Squeezing rolls group
Horizontal degreasing tunnel with half squeezing roller group
Squeezing roller unit
Brushing machine with 4 rolls/brushes
N ° 2 wringer roller assemblies
Horizontal rinsing tunnel divided into two sections with half squeezing roller group
N ° 2 wringer roller assemblies
Hot drying system
Ribbon threading system
Deflector roller (existing) with new motorized snubber roll
Recirculation system for degreasing, brushing and rinsing
Ventilation system and fume scrubber
Rolls changing system
The electrical scope of PRISMA Impianti included Motor Control Center (MCC) for pumps & ventilators, VVVF drive panel for working rolls, control desks and local control panels.

For plant automation we have used the existing PLC ControlLogix (RSLOGIX 5000). We have modified the PLC software to integrate the new equipment in order to optimize the efficiency of the cleaning process.

The functional safety software was developed according to the International Safety standards (EN/IEC 62061 and EN/ISO 13849-1) in accordance with the safety documentation (descriptions, safety concept or cause/effect safety matrices) from the customer.

Last but not least, we have also developed the Supervising System (HMI) by use of Rockwell FactoryTalk View.

The erection and start-up of the parts in the processing line have been realized in the scheduled two weeks plant shutdown during Christmas time while the completion of the pipes and final start-up have been completed when the line was already running.

The required and obtained performances was to guarantee a 90% reduction of pollutants starting from a strip condition with oil and iron dust pollution equal to 600mg / m² and a processing time of max 20 minutes to pass the strip through the entire cleaning section.

Thanks to the installation of the new cleaning section, the quality of the galvanized strip at the exit of the line has significantly increased.