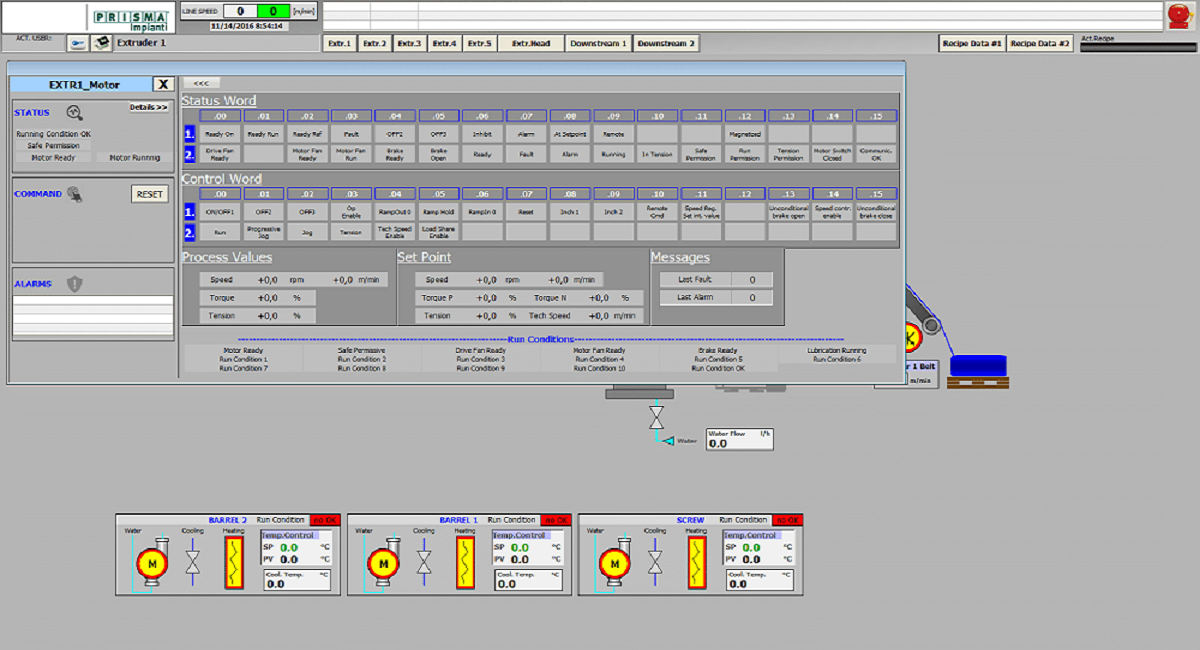 SCADA, HMI and IIoT systems
29 junio 2017
The digitalization of production systems has created a disruptive impact on many technologies of the contemporary industry, including SCADA and HMI systems. Today the requirements in terms of connectivity, security, and mobility are more and more important, in particular since IIoT solutions allow production data real-time monitoring even via remote access by smartphone and tablet.
In this context, SCADA and HMI interfaces have to be based on a responsive design which allows to making data available on mobile devices. The graphical interface plays an important role because it is necessary to create a very clear overview but at the same time, if necessary, it is possible to analyze each data in detail.
According to this principle, PRISMA Impianti has realized several projects with interfaces for advanced diagnostics. On the overview, it is possible to click on a detail, so in the HMI the relevant pop-up will be opened. Depending on the dedicated user rights, it is possible to analyze status, commands, and alarms, facilitating the work of the operator. This solution was recently applied for several extrusion lines in the automotive sector, but as well for projects in other sectors such as steel industry, chemicals, and energy.
The common features of SCADA and HMI systems, such as high readability or the use of calibrated colors for alarm signals, become even more important, as current systems are simple and self-descriptive, but at the same time, they are more and more sophisticated to develop. In future dynamic interactions will be foreseen, like Voice Commands and Augmented Reality (AR) with wearable devices.
All PRISMA projects are constantly focused on the operator, who uses the system. For this reason, even if we have a well-defined standard based on studies and best practices for interfacing graphics, we always take into account the specific needs of our customer, also in relation to the use of colors and graphical elements.
In order to be able to use the production data, it is also necessary that the data is provided in the form of reports and trends, which enables the management of big data flows. Our company provides for each SCADA and HMI project the data storing, a table-based archive, which allows to view trends. If the data volume increases rapidly, we often recommend to using a dedicated software for advanced data storing. Even in this case, our engineers are capable to develop and study specific solutions according to the customer needs. Among our current projects, we have implemented a SCADA system with an advanced data storing system for a continuous galvanizing line, which included the programming of a Level 2. Furthermore, PRISMA has realized an important project for a coating line, which included the production management by use of a Level 2 and the realization of a historical production data system. Also, in this case, we are talking about an advanced diagnostic system which allows to monitoring all production data pertaining to each equipment, which facilitates the work of each operator and maintenance worker. The same principle has been used by PRISMA Impianti also for the energy sector. In this field, we have developed very complex HMI systems, but at the same time, they are easy to use also via remote access, with many automatic sequences and the possibility to monitor details and anomalies in real time for each feeder, always by use of pop-ups.
One common topic, that unites all IIoT systems, is the security, which is very important today since it is indispensable to monitor the factory data via remote access without risk.
For this reason, PRISMA Impianti has developed in collaboration with the university "Politecnico di Torino" the cybersecurity suite SECRA (SECure Remote Access), which allows virtual commissioning and guarantees a secure access even via smartphone and tablet. A new project of our company, again in collaboration with the "Politecnico di Torino", is to develop new diagnostic functionalities in real time by use of the graphics interface which is used on the SCADA systems.
An important aspect for the future of SCADA and HMI technologies will be the development of IIoT Gateway categories to be able to receive information quickly, by use of a plug & play approach. The use of these devices requires industrial web protocols supporting plug & play to transfer data to the SCADA.