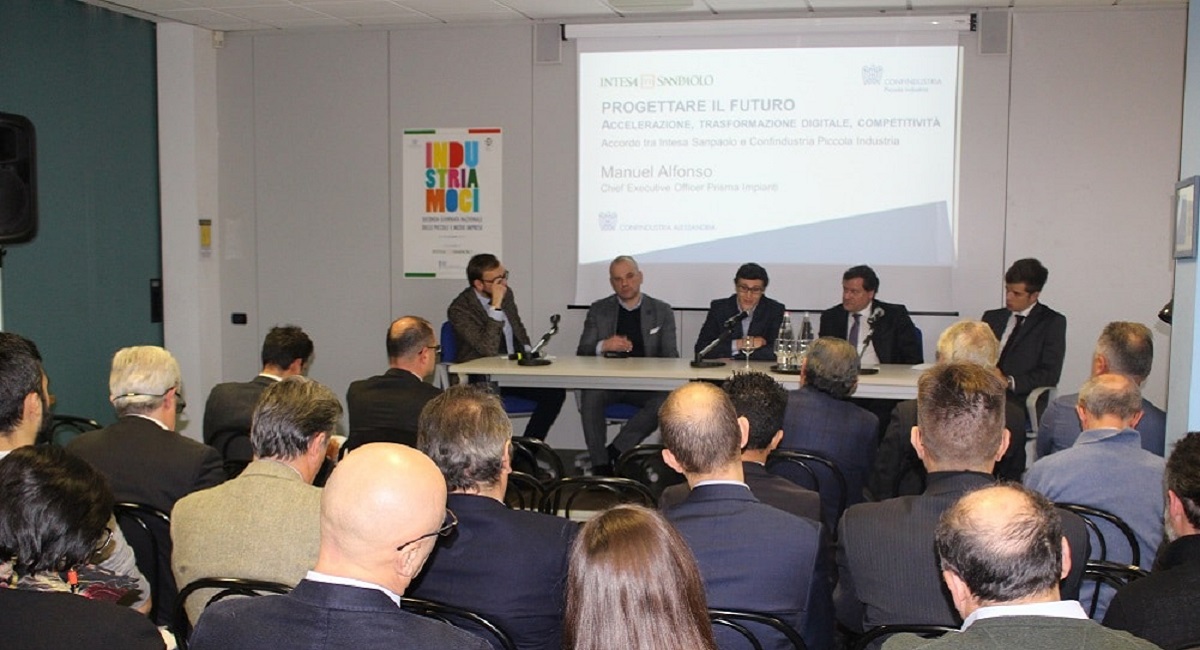 The agreement "Designing the future" presented at PRISMA Impianti
21 diciembre 2017
The agreement "Designing the future" presented at PRISMA Impianti
"Designing the future", the agreement signed between the Confederation of Italian SMEs "Confindustria Piccola Industria" and the bank "Intesa Sanpaolo", was presented at our headquarters. The partnership promotes competitiveness and transformation brought by the "fourth industrial revolution", providing access to a funding valued at a total of 90 billion euros.
Valerio Eugenio Alfonso, founder of PRISMA Impianti, and Manuel Alfonso, CEO, participated at the presentation and took the opportunity to answer important questions about digitalization. In fact, our company has always been committed to provide services for industrial automation with a strong focus on Industry 4.0.
"Every day we deal with requests from Italian companies", said Manuel Alfonso. "In our opinion Industry 4.0 is still more an evolution than a revolution because it is part of the natural development of technologies starting from the years '70-'80. Today data is available in larger quantities than before, but the focus of Industry 4.0 should be to turn this data into information, to improve industrial processes. So far, people are still in charge of this key action: we will see a revolution only if/when Artificial Intelligence will be developed enough to improve processes independently from human help.
In the order to optimize the management of data and to satisfy the trade-off between production efficiency and rising product customization requests from the mass market, PRISMA Impianti developed a MES / MOM (Manufacturing Operations Management) platform for our Clients. It's a modular system that receives, stores and processes data during production, quality control, inbound/outbound logistics, and maintenance. Our MES / MOM gives the opportunity to skilled operators to continuously improve the production processes and to reduce costs for the machinery setup during product changes.
Last year we have received also many requests for remote assistance, so our company has developed in collaboration with Polytechnic of Turin the cybersecurity suite "SEC.R.A." acronym of "SECure Remote Access", in order to comply with these requests without risking unwanted intrusions in industrial networks.
Manuel Alfonso later remembered PRISMA commitment to our people, which is the real competitive advantage for companies today, in the war for talent. Training, cooperation with universities and school-work alternations are important investments we keep on doing, but we also strive to offer satisfactory career paths, chances to improve personal education, et cetera. Our CEO has no doubt: "Today the most important advice for companies is, whether digitized or not, to invest in human capital and respect the employees".

Gianluigi Viscardi, Vice President of "Confindustria Small Industry for Innovation", Tiziano Maino, President of "Piccola Industria Confindustria Alessandria", Luca Calò, Regional Director of Intesa Sanpaolo in Liguria and Valle d'Aosta, were all speakers in the presentation of the "Designing the future" partnership.
After the presentation, our CEO was joined in a roundtable discussion by Paolo Musso, Director of Intesa Sanpaolo for Commercial Enterprises in Piedmont Valle d'Aosta and Liguria, Daniele Battaglia, Department of Engineering Management and Production Polytechnic of Turin, Alfredo Pollici, CEO Notarianni, a company producing self-adhesive labels in rolls. The event was moderated by the journalist Domenico Lanzilotta.